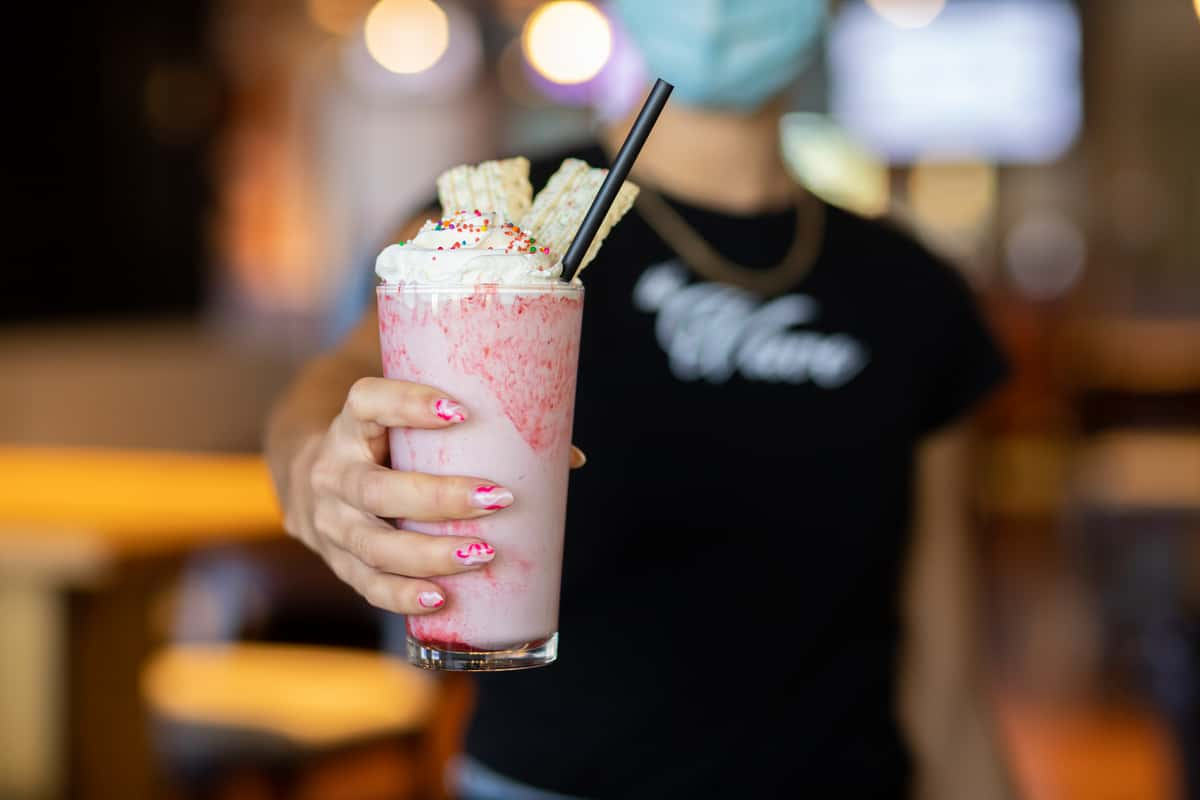 frequently asked questions
HOW MANY GUESTS DOES THE WAVE RECEPTION VENUE SEAT?
The Wave can accommodate receptions from 70 – 175 guests. If your guest count is larger than 175, inquire with our wedding consultant about our larger onsite banquet facility.
CAN WE PUT OUR WEDDING DATE ON HOLD WHILE WE MAKE A DECISION?
Dates are booked on a first come first serve basis. We will hold a date for up to 7 days and will give you the first right of refusal if there is another inquiry during those 7 days. At this point, you can firm up within 48 hours or open the date for the other client if you are not ready to confirm. Our goal is to be as flexible as possible and give you time to weigh all of your options.
DO I HAVE TO LEAVE A DEPOSIT TO BOOK MY RECEPTION?
A $1500 non-refundable deposit along with a signed contract is required to secure your date and begin the planning process. We apply the deposit to your final food and beverage bill.


WHEN ARE FINAL PAYMENTS REQUIRED FOR MY FUNCTION?
50% of the remaining balance is required 30 days prior to your wedding date. The other 50% of the balance is due 7 days in advance. All purchases the night of your wedding reception are to be paid in full at the end of the night.


WHEN ARE MENU SELECTIONS AND FINAL GUEST REQUIRED?
Menu selections can be made at any time during the planning process but need to be finalized 30 days in advance of your reception. Final guest counts are required 14 days prior to your function. The final guest count can not be below the guaranteed guest count selected at the time of booking and will be the basis for the minimum guest number for billing. Guest counts may be increased up to 72 hours prior to the reception. Within 72 hours of the reception, we will do our best to accommodate last-minute additions to the guest list.
WHEN CAN I DROP OFF ITEMS FOR MY RECEPTION AND WHAT IS THE SET UP AND PICK UP PROCESS?
Drop off all items the day prior to your function and our staff will complete set up of all items as per your detailed instructions. Any outside services such as florist, wedding cake and decorator will coordinate delivery and set up directly with the Wave wedding professional. Floral and wedding cake must be delivered the day of your reception. All items must be picked up within 48 hours after your reception.


WILL THE WAVE STAFF SET UP MY WEDDING CAKE?
The Wave staff will not handle placement of wedding cakes, as we will not be responsible for any damage incurred during delivery by your supplier. The company providing the cake should set the cake in place on the cake table provided by the Wave. The Wave provides complimentary cake cutting and will handle the cake when this is required after the completion of photos.


DO YOU HAVE A SECURE PLACE TO KEEP WEDDING GIFTS AND ENVELOPES?
The Wave has a secure office for gifts and will keep envelopes in our safe. Please ensure that your gifts and envelope box are not left unattended. The Wave is not responsible for lost or stolen items. Please ensure that all gifts are removed from the venue at the end of the reception.


DO YOU ACCOMMODATE VEGAN, GLUTEN FREE AND SPECIAL DIETARY REQUESTS?
Our executive chef will provide modified and alternative meals for guests will special dietary needs. The Wave requires a consolidated list of menu selections and dietary requests presented by table, 14 days prior to your function. Place cards are required to be provided by the client including a symbol for guest meal selection.


DOES THE WAVE ACCOMMODATE GUESTS AGED 10 OR UNDER?
The Wave is a child-friendly venue and our staff will work to provide stress-free experience for guests with young children. The Wave will provide high chairs on request and will heat up baby food and bottles. The Wave will provide complimentary kid meals for children 3 or under. Children between the ages of 4-10 will be given the option of a kid's meal or adult meal selection and will be changed 50% of the adult per person rate.


WHERE DO MY GUESTS PARK WHEN COMING TO WESTERN UNIVERSITY FOR A RECEPTION AT THE WAVE?
There are several options for parking in close proximity to the Wave banquet facility. There are lots available on Friday evening and all day Saturday & Sunday at no cost and theyare less thana 5 minutewalk tothe Wave. Parking lots are available for rent and attendants provided for an additional fee. There is a direct drop-off with building access forelderlyand disabled guests. There are elevators available and the Wave is fully wheelchair accessible.


CAN WE BRING IN OUR OWN WINE FOR OUR RECEPTION?
The Wave does not permit any outside alcohol or wine to be served at your function. The Wave has a full selection of premium liquor and our wedding specialist will work with you to bring in any wine that the LCBO carries on request. An additional charge may apply.


WE HAVE A HOST BAR AS PART OF OUR PACKAGE. CAN GUESTS REQUEST "DOUBLES" OR "SHOOTERS"?
The Wave encourages all of your guests to have a good time, but we do not want to promote overconsumption of alcohol. In the interest of our liability and the safety of our guests, we do not pour shooters or doubles as part of a host bar package.


WE HAVE A BAR PACKAGE AS PART OF OUR RECEPTION, DOES THIS MEAN THAT WE HAVE UNLIMITED ALCOHOL AND WINE SERVICE FOR OUR GUESTS?
An "open bar" package allows ease and convenience for your guests and allow you easy planning and budgeting for your function. The Wave and its alcohol service staff must abide by all of the AGCO Safe Service regulations and for this reason, the Wave does not encourage unlimited consumption of alcoholic beverages. Our staff are trained to recognize the signs of intoxication and have the authority to refuse service to any guest.


IS THERE A TIME LIMIT ON THE BAR PACKAGE WE HAVE PURCHASED AS PART OF OUR WEDDING RECEPTION?
Our bar packages account for 5 hours of "Open bar" service. 1 hour during the cocktail part of the reception and 4 hours post dinner. Depending on the needs of your reception, one additional hour of bar service can be purchased bring you to a maximum of 6 hours of bar service.


DOES THE WAVE PROVIDE ANY ADDITIONAL SERVICES?
The Wave is a full service restaurant and banquet facility and upon request, has a list of preferred vendors toreduce the stress of planning and give you many options for your special day. The Wave venue can host bridal showers, rehearsal dinners and Sunday brunch following your reception for friends and family. Please ask our wedding specialist for a full list of extras for your reception and all of your wedding planning needs.


CAN WE USE OUR OWN CATERER OR BRING IN OUTSIDE FOOD?
The Wave employs an Executive Chef and a full service culinary team and we are the only permitted provider of food and beverage allowed in our venue. Wedding cakes and cupcakes are permitted but no outside food items can be served due to food safety regulations.


CAN WE HAVE OUR CEREMONY ON CAMPUS?
Western University's campus is the perfect location for your ceremony. Inquiries for access to outdoor spaces must go through Western University but we are more than happy to put you in touch with the appropriate parties. We also have a beautiful new ceremony oom located steps from the Wave. The Wave. Our ceremony room can accommodate up to 150 guests. The Wave can also provide rooms nearby for the bridal party to relax in before the ceremony begin.
CAN WE TAKE PHOTOGRAPHS ON WESTERN'S CAMPUS?
With our spectacular campus as your backdrop, you are in the perfect place for unforgettable photographs. The Wave staff can guide you to some of the most beautiful areas on campus including buildings that will provide stunning architecture and stained glass as the backdrop for your photographs. If you are looking for a photographer, let us help. The Wave works closely with fantastic local photographers.